Many rental car agencies in Qatar provide affordable rates on a variety of vehicles, including small and medium sedans, SUVs, and luxury cars. thus, we don't have to worry because car rental centers in Qatar are all over the place! Whether you need a
temporary transportation service due to an unanticipated auto repair, you're taking a road trip with your family and need a larger vehicle, or you simply want to drive a red Ferrari for a ride, don't worry!  But before anything else, read on for some information on what you should know about renting a car in Qatar.
To rent a car in Qatar, you will need to be at least 21 years old and have a valid driver's license. You may also need to present a credit card and passport as proof of identification. There are several car rental companies located in Qatar, including major international brands and local companies. It's recommended to check the rental conditions and prices from different companies and compare
them before making a reservation. Additionally, it's important to note that Qatar has strict traffic laws, so make sure to familiarize yourself with them before driving.
Driving License requirements for Qatar Residents:
Copy of valid Qatari ID/ Copy of valid passport
Duration allowed to drive in Qatar: Until expiration date
Drivinglicense requirement for Non-Residents:
GCC Driving License (Bahrain / Kuwait / Oman / Saudi / UAE)
Duration allowed to drive in Qatar: Until expiration date
GCC Driving License (Nationalities other than Gulf Nationals)
Duration allowed to drive in Qatar: 14 days from entry to Qatar
International Driving License from Country of Origin (all nationalities)
Duration allowed to drive in Qatar: 3 months from entry to Qatar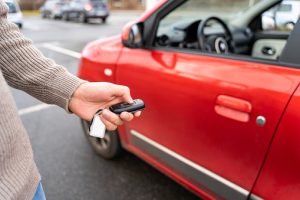 Basic requirements for renting a car in
Qatar:
Since the majority of Qataris rely on rentals, renting a car is not difficult in Qatar. So renting a car is now simple for everyone.
If you live in Qatar or have a residency visa there, you must have a Qatari driving license.
You are qualified to rent a vehicle if you have a valid international driving license and enter Qatar on a business
or tourist visa. In this sense, you may continue to use the rented car until your visa expires.
You cannot rent a car if you are a visitor and have a driver's license from your home country. But no need to worry, nevertheless you can rent a car with driver with some extra charges. 
You should be familiar with the fundamental guidelines for driving in Qatar, such as the legal speed limit and the
prohibition against using a phone while driving. Always use a seatbelt while driving to avoid paying traffic fines. Since radar has been put on the side of the roadways in Qatar, it is impossible to break the traffic laws there. Anytime
you break the law, the radar will note it, and depending on the sort of traffic infraction you committed, you may be required to pay fines. There are a lot of automobile rental agencies, but you need to pick the best one because it will
be beneficial if you go with a reliable agency. For the convenience of individuals, there are numerous websites where one can rent a car.
Here is one of the best marketplace for bookings of this kind in Qatar is Khaleej Booking, (www.khaleejbooking.com) and it offers a large
selection of opulent vehicles. Your choice of an automobile is influenced by a variety of things. A large vehicle is required if you wish to travel with your family, and SUVs are the ideal choice for nighttime driving. You are not constrained by a set amount of options when choosing a vehicle, which is another crucial factor. There is a large selection at your disposal. Likewise,
a 4×4 vehicle is highly recommended if you plan to visit any beaches or sand dunes. you cannot drive in Qatar, If you are under the age of 18.
It is primarily your responsibility to take pictures of the vehicle you plan to rent, before using it. You should also
extensively inspect the components and operations of the car. This could save you from incurring further fees.

Payment terms
Security deposit: To rent a car in Qatar, a security deposit is required by the car rental centers. Depending on the car rental
company, the security deposit ranges from QR 1,000 to QR 1,500. You can pay either by cash, debit card, or credit card. The security deposit will be returned to you 14 days after you have returned the vehicle.
Rental fee: The rental fee varies depending on the brand and model of the vehicle. Rental rates are calculated based on daily, weekly,
monthly, or yearly contracts. Most of the time car rental centers have promotions, so don't forget to inquire about it. Rentals returned after the due date without prior arrangements will be charged for an extra time period.
Small saloons range from QR 90 to QR 150/day
Medium saloons range from QR 150 to QR 200/day
SUVs range from QR 180 to QR 270/day
Luxury cars range from QR 210 to QR 3,900/day
 in addition to 24/7 customer care and roadside assistance, Some automobile rental businesses provide extra services, such as
additional drivers, kid seats, longer roadside protection, and accident protection.  You can speak with the appropriate sales representative to
learn more about these extra services. The rental agreement form also includes other information that will be reviewed with you on traffic violations, auto accidents, auto maintenance, etc.
List of some car rental companies in Qatar:
§  KBF Rent A Car

§  Al Muftah Rent A Car

§  AVIS Rent A Car

§  Hertz Car Rental

§  Jabrco Rent A Car

§  Oasis Rent A Car
It is important to note that Qatar has tight traffic regulations and high fines. Speed limits are tightly enforced, and using a cell
phone while driving is prohibited. It's also crucial to be aware of local norms and laws regarding driving, as they could differ from those in your native country.
Depending on the type of vehicle and the duration of the rental, prices for car rentals in Doha can change. It is advised to shop around
and compare costs at several businesses. For long-term rentals or for making reservations in advance, some businesses might additionally provide special offers or discounts. You can rent a car in Doha on a daily, weekly, or monthly basis as well. Additionally, the majority of the rental automobiles are the newest luxury car models.